Description
* Credentials must be authorized before purchase of machine.
View the AutoProPAD Application Guide Here
---
The AutoProPAD BASIC is a dedicated OBD vehicle key and remote programmer. It includes the same programming and diagnostics capabilities as the AutoProPAD LITE but in a budget-minded package. It is ideal for locksmiths looking to provide reliable security services for their customers for most vehicle makes worldwide. It includes the same OBD key programming and diagnostics software as its bigger brother, the AutoProPAD, but does not include reflashing or pre-coding features. The AutoProPAD has quickly become the primary OBD key programming tool for locksmiths across America and once you own one, you'll understand why!
Best of all, the AutoProPAD is NOT token based. Use your machine on your own terms. New vehicles and feature updates are added regularly and are free for a year, so prepare to leave your other programmers gathering dust. After your first year, your machine continues working as it always did. You can continue to receive updates and support for an additional year by purchasing a subscription. Or don't. It's up to you. You get to keep and continue using exactly what you paid for, like most everything else in life.
AutoProPAD BASIC Main Features:
Transponder & Remote Programming: Including Acura, Audi, Fiat, Ford, GM, Honda, Hyundai, Infiniti, Isuzu, Jaguar, Kia, Land Rover, Lexus, Mazda, Mitsubishi, Nissan, Porsche, Saab, Scion, Subaru, Toyota, and Volkswagen. See the AutoProPAD Application Guide for more details
OBD PIN Reading: Support for Audi, Chrysler, Dodge, Fiat, GM, Hyundai, Infiniti, Jeep, Kia, Nissan, and Volkswagen.
Unlimited Usage: One full year of unlimited updates and support is included absolutely free with every AutoProPAD, AutoProPAD LITE and AutoProPAD BASIC purchase. At the end of the first year, your AutoProPAD will continue working as it always did but will no longer receive new vehicle updates. Technical support services, as provided by Lock Labs, will also cease. For an unheard of $600 you can continue to receive unlimited updates and technical support for another full year.
Easy, FREE Updates for a Year: The AutoProPAD LITE updates directly via the Internet using built-in Wi-Fi. Updates are being added regularly and frequently. When your first year is up, just purchase an inexpensive subscription for updates to keep getting the latest software for the newest vehicles.
Automotive Diagnostic Functions: Read and clear engine fault codes, service TPMS systems, and performance tune engines. The AutoProPAD also includes a variety of other diagnostic capabilities and can serve as a fully functioning OBD2 diagnostic tool for automotive technicians.
Touchscreen Interface: Using the large 7″ capacitive touch screen, swiping through the options is fast and easy.
Superior Support: Real American support by real automotive locksmiths. Call-takers in the pacific time zone to help you!
AutoProPAD BASIC Current & New Stand-Out Features:
Chrysler/Jeep/Fiat RFH system PIN reading & programming
Chrysler CAN system PIN reading & programming
Ford 128-Bit add key & all-keys-lost programming
Ford Fusion 2013+ system rolling code bypass (no NASTF needed)
Ford 10-minute bypass on all-keys-lost for most Ford systems
Ford parameter reset
Ford/Lincoln/Mercury keyless entry keypad code read
GM PIN code reading (2017 & up requires internet)
GM remote programming
Honda 2017+ proximity system programming
Honda transponder programming: Super-quick!
Hyundai & Kia old PIN codes: Convert VIN to PIN for 2007 and older
Hyundai & Kia new PIN code read: No more buying PINs from the dealer (smart keys w/o programming slot)
Mazda 2017+ in/outcode bypass (internet required)
Nissan BCM to PIN conversion: Supports 4-digit and 20-digit BCMs
Nissan Kicks programming (requires dealer or NASTF 22-digit PIN conversion)
Subaru G-key (80-bit) add key & all-keys-lost programming
Subaru H-key add key only
Toyota G-Chip programming: no 16-minute wait
Toyota H-Chip programming: no 16-minute wait
Toyota/Lexus proximity system 6 & 7 programming add key & all-keys-lost (2017 Toyota CH-R & Prius Prime)
Toyota 2018+ NEW proximity system add key & all-keys-lost (requires dealer or NASTF data calculation)
Toyota 2018+ NEW keyed ignition system add key (requires dealer or NASTF data calculation)
VW/Audi 2013-2016 add key
VW MQB platform add key
AutoProPAD BASIC Main Unit Specifications:
| | |
| --- | --- |
| Operating System: | Android |
| Processor: | Quad-Core 1.60 GHz Processor |
| Memory: | 1GB RAM, 16GB Flash |
| Display: | 7.0″ Touchscreen |
| Camera: | n/a |
| Ports: | MicroUSB |
| Battery: | 4000mAh, 3.7V Lithium-Polymer Battery |
| Dimensions: | 8.2″Wx5.5″Hx1.1″D |
Frequently Asked Questions:
What cars can it program?
An AutoProPAD Application Guide has been created for you, but it is constantly changing as we add more features and encounter more vehicles.
How do I get updates?
There are 2 methods for updating your unit:

Connect your AutoProPAD BASIC to a Wi-Fi network. Click the menu button on the top-left and select Updates. There you will see all updates available and can simply click each one to get your device updated.
Connect your AutoProPAD BASIC to a Wi-Fi network. From any screen showing all vehicle manufacturers, a small, white Update icon will appear next to a manufacturer name if an update is available. Click each update icon to perform the update one at a time.

Please check for updates frequently. We recommend checking it weekly since updates are being added at a fairly fast pace.

What happens when my subscription ends?
Your AutoProPAD BASIC includes a free year of unlimited updates. When your subscription ends, you can continue to use your unit like normal, but any new updates will not be available to download.

Also,

please

note

that

on-the-vehicle

technical

support

is

only

available

to

users

with

an

active

subscription.

Where can I get support?
XToolUSA is providing support for this machine from within the US at (888) 988-6865. Please save that number. Note that technical support is only available for users with an active subscription. Please have your serial number ready before calling.
What kind of warranty is included?
The manufacturer provides a 1-year limited warranty against defects (not physical damage), covering parts and labor (usually not shipping). Please contact the XToolUSA office with any problems.
Is the AutoProPAD BASIC the same as other XTool Products?
This is different than other XTool machines you may see on sale in other countries. The AutoProPAD BASIC is the only XTool machine made for locksmiths in the US market and includes extra OBD2 software specific to United States vehicles.

The cheaper devices such as the PS80, PS90, X100PAD, or X100 have some of the same hardware but mainly performs only the advanced vehicle diagnostic functions that an auto shop might use. For instance, if you purchase a PS80 (instead of an AutoProPAD BASIC), you will not be able to program Nissans with 20-digit BCM, Ford Fusion without NASTF, Toyota G, Toyota H, Toyota Smart Keys, Chrysler 200 systems, most Chrysler PIN code reads, VW/Audi programming, Honda Prox, and many others.
Includes:
AutoProPAD BASIC Main Unit
Main cable with OBD2 adapter
Power Adapter
MicroUSB Cable
User Manual
Certificate of Quality with Product Activation Info
Packing List
Recommended Accessories: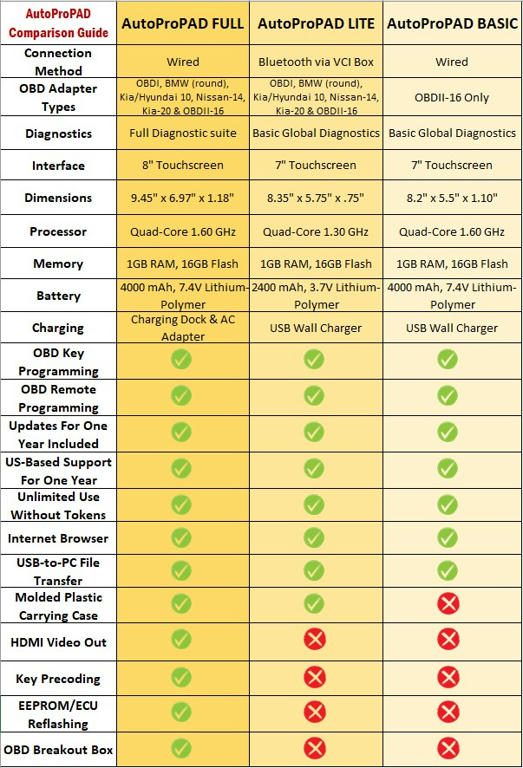 PS80-L PS90-L PS80L PS90L